Bolero Bistro - Geneva
French, Mediterranean, World fusion
Phone
Hours
Open Tuesday -Saturday
11am-midnight
Closed Sunday and Monday
Boléro, where culinary arts blend with culture.
Boléro is a new restaurant located in the heart of the new Versoix cultural center.
A mix of diverse and varied dining opportunities are available to meet your needs, from a business lunch, to happy hour with friends, or a candlelight dinner, in three distinct areas that intertwine.
From the beautiful decor, that is stylish and warm, to the subtle menu created by starred chef Serge Labrosse, all is inspired by a contemporary attitude.
The different atmospheres transport you from one world to another in just a short distance.
Boléro embraces innovation and various styles of cuisine that interlace seamlessly.
One area is a modern, creative brasserie where you will barely notice the time go by, another is a bar serving the best wines and signature cocktails, while the third falls into the gourmet category where your taste buds will be treated to the most refined of cuisines.
Come nourish your soul and dazzle your senses in this trendy new Geneva eatery.
Key points
Bolero Bistro provides three different atmospheres with three distinct kinds of quality cuisine.
Average price
Lunch : 51 CHF
Dinner : 66 CHF
Average price « à la carte » based on one appetizer and one main dish (excluding drinks, according to the menu provided by the restaurant)
Location
Across from the CFF station in Versoix, in the countryside of Geneva.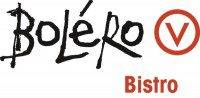 Your booking request for Bolero Bistro