La Potinière - Geneva
Bistronomic
Phone
Hours
Open Daily (closed Sunday evening)
Lunch 12pm - 2:15pm
Dinner 5:30pm - 10:30pm
La Potinière enjoys a wonderful setting located in the heart of Geneva's beautiful Jardin Anglais.
With a blend of savoir-faire and passion, the entire staff at La Potinière invites you to experience gourmet-bistro cuisine, exceptional wines, and a list of creative cocktails, all while enjoying one of the most beautiful panoramas in Geneva.
For lunch, dinner, or simply for cocktails, our chef strives to treat your taste buds by preparing a variety of delicious specials.
Every Sunday, he creates a sumptuous brunch
And a tapas menu is available in the evenings to enjoy with good wines along with music.
On Tuesday and Thursday, friends meet to relax after work at La Potinière.
Key points
A friendly, festive ambiance in typical Geneva style
Plus
New: Every Tuesday, Raclette party from 7pm!
Average price
Average price « à la carte » based on one appetizer and one main dish (excluding drinks, according to the menu provided by the restaurant)
Location
Located in the heard of the Jardin Anglais facing Lake Geneva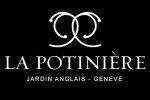 Your booking request for La Potinière