Kytaly - Geneva
Italian, Pizzeria, Vegetarian
Phone
Hours
Monday - Saturday
Lunch 12pm-2:30pm
Dinner 7:30pm-10:30pm
(Closed Sunday, Monday evening and Saturday lunch)
Kytaly invites you into a modern, minimalist setting with a cozy ambiance where you can enjoy all of the great classics of Italian food as brilliantly created by the Neapolitan chef Vincenzo Agrillo.
In the evening, Kytaly also offers gourmet cuisine based on a fusion of carefully combined flavors.
If you are interested in authentic, fresh ingredients, you will love the taste of our imported buffalo mozzarella, flown in directly from Campania or Puglia less than 24 hours after it is made.
For those who love Neapolitan pizza, we stake our reputation on providing excellent pizzas that use the best seasonal ingredients, and are made using traditional flour that creates the lightest possible crust.
Our staff is at your service to advise you on choosing the best vintages from our large selection of Italian wines to accompany your meal.
For those in more of a hurry, all of our dishes can be made "to-go" and numerous specialties are available in our Take-Away section.
On Wednesday evening, Kytaly is transformed for happy hour with a free all-you-can-eat buffet.
Learn more Learn less
Key points
With its varied cuisine and gourmet pizza, Kytaly caters to all tastes while embracing true Italian flavors.
Average price
Average price « à la carte » based on one appetizer and one main dish (excluding drinks, according to the menu provided by the restaurant)
Location
Located in Geneva's banking district, 200 meters from the Rhône, 5 minutes from the hyper center, and close to the hotels along the edge of the lake.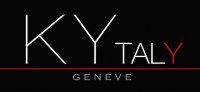 Your booking request for Kytaly