Les 3 verres - Geneva
Italian
Phone
Hours
Open Monday - Friday
Saturday
Closed on Sunday
This Geneva restaurant, Les Trois Verres, or Tre Bicchieri, is so named in reference to the highest distinction awarded by the Italian wine guide Gambero Rosso.
Specializing in fine Italian wines, the restaurant offers quality Italian cuisine from various regions of Italy, including homemade pasta, classic appetizers (vitello tonnato, charcuterie, burrata, buffalo mozzarella), grilled rib eye steak, sea bass in salt, and other specialties.
Key points
Terrace, large selection of Italian wine.
Average price
Average price « à la carte » based on one appetizer and one main dish (excluding drinks, according to the menu provided by the restaurant)
Location
The far northern edge of the Plainpalais, just a few steps from Victoria Hall and the Grand Théâtre of Geneva.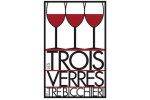 Your booking request for Les 3 verres