Pain de Sucre - Geneva
Fashion, Fashion accessories, Luxury goods, Ready to wear, Swimwear
Phone
Hours
Open Monday to Friday from 10am to 6:30pm and Saturday from 10am to 6pm.
Paradise island, let's travel to the other side of the world in a Caribbean dream of lagoon blue waves on white sand beaches. It is in this incredible light that Pain de Sucre offers a swimwear collection with vibrant colours for summer 2023. Green, ocean blue, sun yellow, red and pink create an exotic colour chart, like the lush panorama that unfolds.
Iconic pieces or new creations, the swimsuits play a lively tune, with salsa and soca notes. Silver rings, graphic laser cut-outs, faceted glass jewels or coloured rhinestones… Details that show the signature of the Fashion House. Graphic, reversible metallic, ethnic, floral, animal… The prints clash with the plain colours to create a collection with so many possibilities.
A breath of innovation rises with a new material in fine recycled terry with orange, olive green, black or white shades, inspiring future iconic models such as the playsuit VANINA or the duo SOFYA x TANJA, triangle bikini with Pain de Sucre branded bracelets.
Learn more Learn less
Key points
Creativity, warm welcome, personalized advice, innovation, quality, attention to detail.
Location
In immediate proximity to the FNAC Genève Rive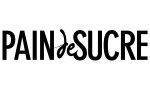 Your booking request for Pain de Sucre