L'Isola - St Barts
Italian
Phone
Hours
Open every day from 6:30 pm to 11 pm.
"Grazie" is the only word that comes to mind after a dinner at L'Isola. At the height of the gourmet dining experience in St Barth, this lovely restaurant showcases the very best in Italian cuisine. Epicures can savor the delights of a life well lived, and share a good meal and a wonderful evening with their companions in a beautiful Creole-style building.
L'Isola is everything one expects at the top Italian restaurants. The romantic, softly lit atmosphere is immediately seductive. A warm welcome and excellent, attentive service make you feel right at home upon arrival.
The cuisine is fabulous, authentic, and elegant. Every one of the recipes is prepared with the best ingredients from Italy, and all of the fresh pasta is made in-house.
Try the Mediterranean red snapper tartare or grilled octopus with capers, black olives, and spicy tomato sauce as an appetizer. Next, taste a pasta or risotto. Those who can't decide can try a mix of several items on one plate. Save room for a grilled filet of beef with mushroom or green pepper sauce, or perhaps fish soup with crustaceans. And since a proper meal is never complete without dessert, treat yourself to a scoop of gelato and an espresso.
The cherry on the cake is the solid wine cellar. The rigorous selection of ingredients in the kitchen is echoed in the choice of wines, with a complete, well thought-out list.
The master of the restaurant is Fabrizio. This passionate native of Rome is inspired by a desire to provide the best epicurean Italian experience in his restaurants. 
Key points
The most authentic and elegant Italian restaurant in Saint Barthélemy. Italy in all its splendor.
Plus
The service at your table is more than perfect. As if an invitation to gourmet delights, certain dishes are plated right before your eyes. What could be more delicious than fresh truffle delicately shaved onto a bed of scallops.
Click here for home delivery >> Delifood
Average price
Average price « à la carte » based on one appetizer and one main dish (excluding drinks, according to the menu provided by the restaurant)
Location
In the heart of Gustavia.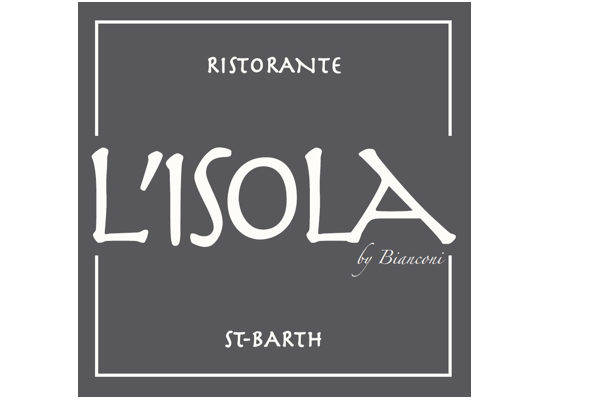 Your booking request for L'Isola