Kiwi - St Barts
Ready to wear, Shoes, Swimwear
Phone
Hours
From May to October :
Monday - Saturday :  9:30 am - 7 pm
Closed on Sunday
From November to April :
Open daily from 9:30 am to 7:30 pm
Kiwi St Barth is a one of the most popular boutiques on the island, offering a collection of stylish bathing suits and swimwear for the entire family.
Kiwi was created in 1985 under the tropical sun of the world-famous beaches in Saint Tropez. Believing in "the more the merrier," KIWI leads the pack in terms of imagination in presenting new collections every season that are seductive in terms of the diversity of the prints and the originality of the styles. The designers create beachwear collections incredibly anchored in today's most sought-after fashions. The label, Kiwi Saint Tropez, is certainly not a brand that follows fashion trends, but rather has a nose for what's new to best anticipate the latest looks.
Aware that the world is in perpetual evolution, Kiwi continues to create its collections in the relaxed, elegant style that built its reputation. Actually, the styles are coordinately based on themes that are not chosen at random. Attention to detail, an incredible savoir-faire, and cutting-edge manufacturing ensure that KIWI products enjoy prestigious placement in the world of swimwear and beachwear.
Effectively, they are always coordinated according to themes that are never chosen at random.
An attention to detail, undeniable know-how and state-of-the-art manufacturing ensure that KIWI products have a priveleged position in the world of swim and beachwear.
In a welcoming setting with light, natural design elements, the women's boutique in Villa Creole presents swimwear and beachwear collections updated several times per year in keeping with new trends. A mix-and-match bathing suit collection allows Kiwi to meet every request, from the tamest to the wildest. Pareos, skirts, robes, tunics, beach towels, fouta towels, hats, bags, and espadrilles complete the range of beachwear items destined to become indispensable accessories.
Based on its success, Kiwi St-Barth opened a second boutique with vintage-style décor to showcase its men's collections right next door to the women's boutique in St Jean. Men appreciate the attention to detail and the unquestionable know-how that guarantees the quality of fabrication. And juniors adore wearing the same bathing suit as dad!
In celebration of the brand's 30th anniversary, the first printed items with the emblematic teddy bear logo have been reintroduced this season as part of an exclusive limited collection.
Learn more Learn less
Key points
Stylish swimwear and beachwear collections for the entire family, starting at age two. High-quality fabrication.
Location
La Villa Créole, St Jean.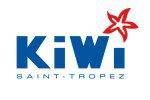 Kiwi