Le Papillon Ivre - St Barts
Bistronomic, Brasserie, bistro, wine bar, French, Gluten free, Kosher, Modern and creative, Seafood, Vegan, Vegetarian
Phone
Hours
Open Monday to Saturday from 6pm to 1am.
Small hunger : from 6pm to 7pm
Dinner : from 7pm to 11:30pm
Closed on Sunday.
A charming little French restaurant with just 30 seats, Papillon Ivre is a must to try when in St Barth, with a combination of gourmet cuisine and bistronomy, which invites you to taste some of the best bottles of French wine, as well as discover regional French specialties, with about twenty small plates to choose from. These are perfect to share, and savor many different flavors, as you graze appetizers, main courses, and desserts in any order you so desire. Some of the best-sellers range from green asparagus or white asparagus with poached egg and balsamic vinegar to Israeli-style roast cauliflower, a lovely selection of fresh-cut ham, soft-boiled eggs, artichokes, croc monsieur with truffles, beef tartar, homemade duck foie gras, and oysters.
Centrally located St Jean, this small restaurant is great for a group of friends to spend a special evening or for a romantic table for two in an intimate corner. Specials on the menu change every two days.
The famous rillettes du Papillon, Cornichons Marc ( French pickles) 10€
Croque Monsieur with black truffle & Comté 24 months ( dry aged) 18€
White asparagus, poached egg and fresh raspberries 14€
Tarama with sea urchin on ice, yellow lemon 14€
Sardinettes extra vintage, young shoots ( baby sardines) 21€
Scallops' carpaccio with almond, lemon and fresh flowers 20€
Herring salad with potatoes in oil carrots, radish & herbs 18€
Smoked salmon back, extra thick creamy 20€
Golden Roasted Cauliflower, sweet spices, hazelnuts from Piémont 20€
The Unavoidable roasted eggplant, pesto and baby burrata 22€
Piquillos ( small red paper) artichoke hearts, fresh cream with garlic & herbs cheese 10€
Carpaccio of Charolais beef with black truffles, parmesan, flowers caper 20€
Bellota ham on the hoof, aged 36 months 25€
Snails with shell from Burgundy with parsley butter & garlic 14€
Plate of white ham with summer truffle 18€
Plate of local dried sausage (France/Corsica) 12/14€
Straciatella and Bayonne Ham with hazelnuts 18€
Roasted raw milk camembert with honey ( french honey from Maison Martine) 14€
Artichoke of Le Papillon (Gribiche sauce or blue truffle Nay) 18€
Brillât Savarin with black truffle heart (Triple Cream) 28€
St Marcellin or St Félicien, honey Martine (double cream) 12€
Baked egg according to the chef's mood ( truffle, foie gras or crispy bacon) 10€
Bone marrow with extra caramelized reduction 14€
Home-made duck foie gras with chutney 20€
Bref tartare on a bone marrow & More suggestions  of the day… 24/28€
Key points
A diversified French menu to enjoy with the best French wines; the possibility to enjoy many different tastes at the same meal, wine by the bottle or the glass. With over 250 different kinds of French wine by the bottle, priced from 40€ to 21,000€, one can always find something perfect at an affordable price; Plus a choice of over 100 excellent wines poured by the glass
Plus
Take-out also available.
Average price
Average price « à la carte » based on one appetizer and one main dish (excluding drinks, according to the menu provided by the restaurant)
Location
Behind the Vaval shopping center, St Jean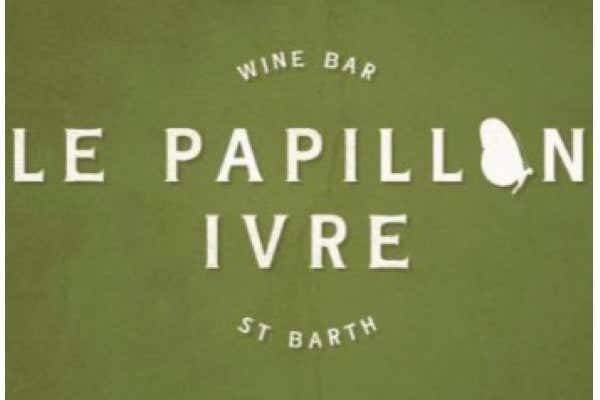 Le Papillon Ivre