Mixolab - St Barts
Private bartender
Experience mixology according to the rules of the art. As the reference for luxury event bars, Mixolab is all about expertise and professionalism for your private parties and business events.
With over 10 years' experience working with top-of-the-range establishments, Jérôme knows the business inside out. From the design of future bars to the creation of menus and the resolution of all kinds of problems, he offers you comprehensive consultancy services guaranteeing follow-up from start to finish.
Training
As a former Bar Manager at Le Bonito and creator of mixology excellence, he offers training services at several levels, as well as cocktail workshops and one-off private courses.
Services
Mixolab can organize your private parties or professional events with impeccable quality of service and presentation.
Key points
- Passion, professionalism and experience are key words - Constantly renewing itself and offering new products - Works with leading brands of alcohol
Plus
Specializes in transparent cocktails, to be discovered at your next event !
Location
At 300 meters from the beach of Corossol.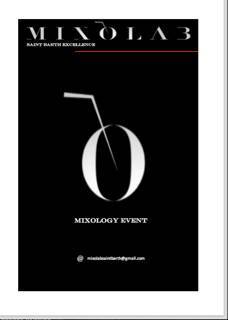 Your booking request for Mixolab